Metal roofing is quickly becoming an extremely popular option for homeowners, but what makes it so great? Is it worth all the hype? Here are our top reasons to go with metal roofing for your home or building!
A Great Investment
Metal roofing can seem like a hefty investment since it is so much more expensive than traditional roofing (at least up front). What most people don't know is that a metal roof can actually save you tons of money over time! Metal roofing, if properly maintained, can last pretty close to a lifetime – in some cases, 50+ years! Sure, the cost to install a metal roof is high, but you dodge the replacement fees every 8-15 years that come with traditional roofing. Not to mention that upkeep, maintenance, and repairs are often much easier with metal roofing.
Wind-Proof, Fire-Proof, and Great for Extreme Weather
Okay, metal roofing may not be 100% wind and fire proof, but it is rated much safer than shingles in both categories! In extremely windy storms and hail storms, you can wind up with several damaged or missing shingles. Not to mention that shingles are almost never fire-resistant. Metal roofing, on the other hand, is extremely strong under high winds, hail, and fire! So much so that most homeowners policy providers offer discounts on premiums to homeowners with metal roofing!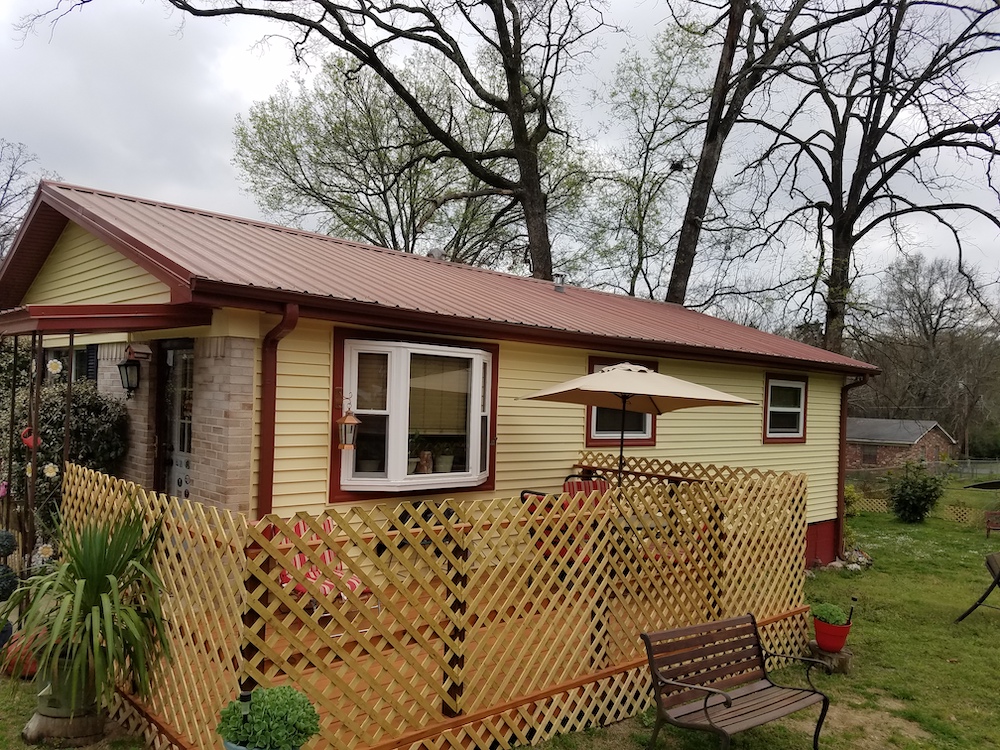 Boost Curb Appeal and Appraisal Value of Your Home
It's no secret that metal roofing can take the look and style of your home to a whole new level. Seriously, it looks so simple, sleek, and nice! This makes your home more enjoyable for you and more attractive to potential buyers if you choose to sell the property. Metal roofing is also reported to increase the worth of your home by one to six percent! In most cases, homeowners can get back 80% or more of the money they paid to install a metal roof.
Environmental and Energy Efficient Benefits
One of the absolute best benefits to metal roofing is lower utility bills. Your metal roof can save you money on energy bills all year round! Some studies have shown that energy conservation is as high as 40% in the hotter months of the year. Choosing a lighter color for your metal roofing materials can help you conserve the most energy possible. Metal roofing is also much better for the environment because the materials are almost always recyclable! It also produces less waste than traditional roofing materials by not needing to be completely reinstalled every decade.
Extremely Lightweight
Traditional asphalt shingles can weigh up to 5 pounds per square foot, but metal roofing panels weigh an average of just 1.4 pounds per square foot! Since it's so lightweight, your home supports much less. Over time, this can help your home last much longer! Since metal roofing is so lightweight, it's also much faster to install, taking an average of just 1 to 2 days to be completely done.
If you're in Arkansas, Texas, Louisiana, Oklahoma, Missouri, or Mississippi and have more questions about why metal roofing is such a fast-growing option for homeowners, or if you would like to start the process of installing a metal roof, get in touch with our Metal Roof Pros here!